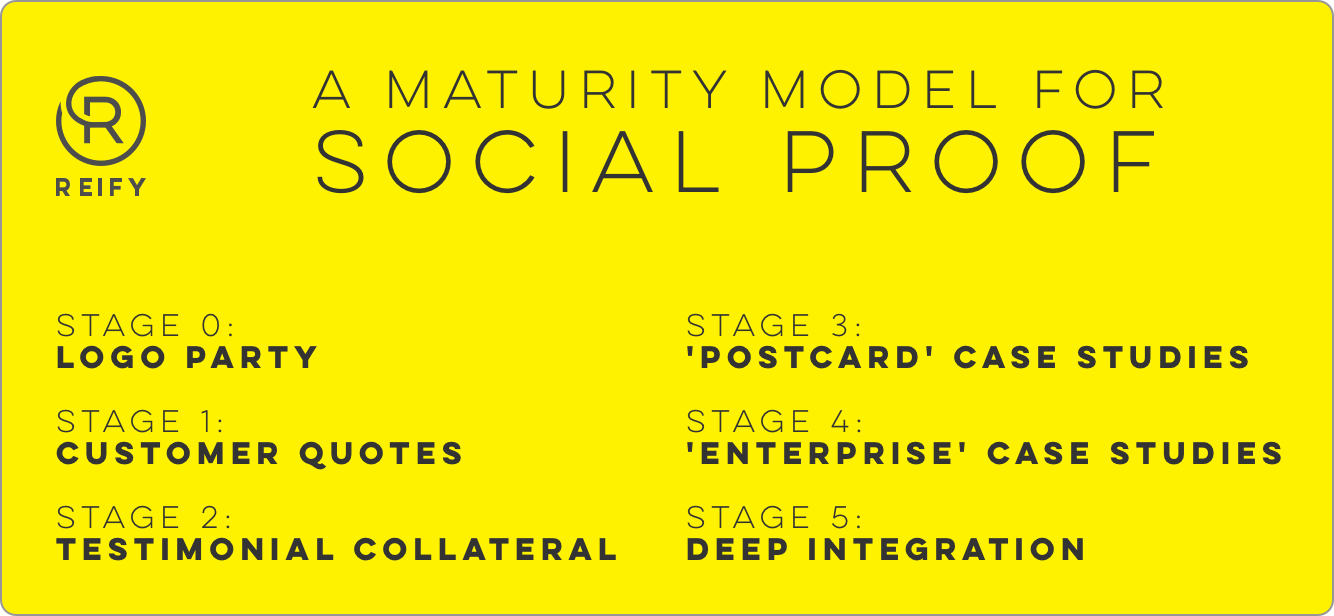 At Reify, we have a systems-driven approach to marketing. Marketing can often feel abstract, and a key aspect of what we do is to make marketing concrete. (Word nerd alert — That's also the literal definition of 'reify'.) We develop frameworks and models that we can use repeatedly to remove the guesswork and to stay focused on what's most important at any given time.
Today we're sharing our maturity model for social proof, which is an integral part of any sales process. We are all influenced by the actions of others, and seeing a company sharing their experience and enthusiasm for a product or service helps bolster confidence in prospects to close deals.
A maturity model is a good framework because we don't have infinite time and resources to pour into any one aspect of our marketing. We gradually improve and mature our efforts as we grow, and here we've laid out the basic stages of maturity that you can use to build social proof for your company.
Stage 0: Logo Party
The first and easiest stage to build social proof is to simply show which companies are using your product on your website. You've seen this a million times — that stripe of logos across the bottom of a home page and/or pricing page that demonstrate what sort of companies are benefitting from this product. If you're an early stage company, make sure to include rights for logo use in your terms of service, so you can build up this list of ideal logos. As you grow and start selling larger deals, this will become a point of negotiation when you're offering discounts.
Stage 1: Customer Quotes
Once you've got a solid list of customers, it's time to ask them for a quote you can use in your marketing. This presumes you have build strong relationships and have delivered great value to your customers! If you're stuck at this stage, focus first on customer success and earn your way to these quotes.
Your customer quotes should demonstrate a specific companies experience with your product, which fulfills one of the pillars of your messaging framework. If you don't have a solid messaging framework yet, read this post first:
How to write persona-driven marketing copy that never misses its mark Yes, we used this process to write that headline.
For each pillar, find a few customers that identified that pillar as their primary motivator for buying your product, and solicit a quote from them. A shortcut is to write the quote yourself, and ask them to approve it. Ideally you know the customer well enough to be directionally correct with your quote, and all they need to do is edit it a bit and approve it.
Once you've got these quotes, sprinkle them around your marketing assets as needed. Wherever your'e pitching the benefits of a specific pillar of your company, back it up with a quote.
Stage 2: Testimonial Collateral
Once we are armed with customer quotes that match our messaging, we can develop a more purpose-built solution to leverage that content for social proof.
Consider building out a testimonial page on your website, with different facets to explore this content. You could bolster this content by adding customer logos here as well, with some customers providing testimonials. Filtering this list by use case, solution, industry, etc. further communicates how you'd like your customers to see themselves adopting your product.
Stage 3: 'Postcard' Case Studies
Now that we have a dedicated URL for social proof, we can further develop this content and transition it from testimonial quotes to more of a case study. You may notice that this maturity model has two levels of case studies — this stage refers to 'postcard' style case studies, which are:
Small, easy to produce stats-oriented stories that include specific details about how a particular company is using your product which provides more weight to these testimonials

May contain limited graphics (company logos, testimonial headshot or similar)

May all use a similar layout and structure to make it simple to produce many of them quickly for a variety of customers

Include stats and details that continue to support your messaging framework
These postcard-style case studies can be used on your website, as slides in sales decks, or as printed handouts for events. As you get more of these case studies, you can develop a taxonomy that lets folks find and filter them by use case, product feature, or other similar statistic.
Stage 4: 'Enterprise' Case Studies
Enterprise'-level case studies are complete, detailed, and crafted stories about a particular customer. These may include:
A detailed look at the infrastructure and software stack in use at the company

Details on how your product is implemented within the company

A business-oriented story that demonstrates the value you deliver at a VP/CIO level

May include high-quality photos and video of the company, crafted and edited to show off this case study with the polish and quality required for this audience
These enterprise case studies can be shared online (video and postcard version, with a downloadable PDF for example). (The New Relic case studies are a great example of this.)
Stage 5: Deep Integration of Social Proof Across All Channels
Stage 5 social proof brings our customers front-and-center across many of our marketing channels, including:
Customers sharing their story on stage at industry events

A robust customer reference program, leveraging customers directly within the sales pipeline

Working with technology analysts firms (Forrester, Gartner, Red Monk, etc.) to further develop awareness among the enterprise, relying on customer stories and references to share that complete story and demonstrate value

Co-marketing activities that highlight the mutual benefits achieved by your partnership with various customers
Onward!
As we've seen, social proof as a concept is something we can mature as we grow, starting by taking our early customer logos on parade, growing into a mature, connected, and highly valued component of our marketing and sales efforts.
If your software company needs help making your marketing more concrete, get in touch!
---